Film products
Total manufacturer of next-generation film products utilizing unique technologies
Sogo Printing is highly regarded among customers for its manufacture and sales of a whole range of printed products based on our unique technologies—from transfer foils to shrink products, flexible packaging (such as laminate packaging and various pouches) and POP labels—for cosmetics, toiletries, pharmaceuticals and other products. Going forward, we plan to expand development of these unique technologies.
Transfer products
Transfer products are containers with printing applied using the thermal transfer method from a film that has been printed on using a release layer, design print layer, or adhesive layer. The film is a carrier and transfers ink only. Sogo Printing manufactures transfer foils using gravure printing.
Characteristics of gravure transfer foils
Gravure transfer foils can support all types of designs desired by customers. For example, they can be used to express multiple colors, color gradients, metallic appearance utilizing proprietarily-developed high-resolution inks, metallic appearance with an added vapor-deposited layer, and pearlescent appearance with a variety of functions such as polarization. The transfer foils used have already been inspected at Sogo Printing, resulting in a greatly reduced defect rate during the decorating process. Additionally, since only a single process is required, the total cost is also reduced.
Shrink products
Shrink products use films that shrink when heated and are decorated using gravure printing.
Characteristics of shrink products
Shrink products fit beautifully over containers with three-dimensional curved surfaces (irregular shapes) and can also be used to decorate much larger surface areas than silkscreen printing. Furthermore, as with our transfer products, we provide shrink products that have already been richly decorated using gravure printing and have been hot-stamped. This reduces both the number of process steps and defect rates, leading to a reduction in total cost.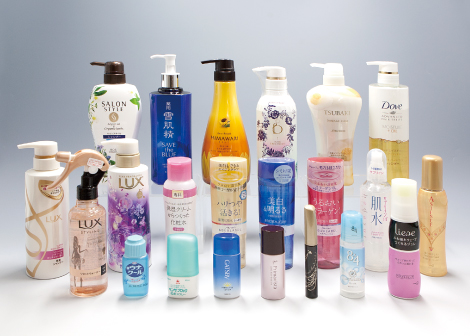 Laminate packaging
Laminate packaging is a product made by laminating two, three, or four layers of films of different materials and is supplied as bags or rolls.
Characteristics of laminate packaging
By changing the type of film to be laminated, laminated packaging can provide an improved barrier against oxygen, moisture, or UV light. Using a vapor-deposited film layer or aluminum layer can add glossy design expression in addition to a barrier characteristic. Sogo Printing has developed its own non-absorbent sealants and sealant PET, which have been adopted in packaging for many products that are volatile.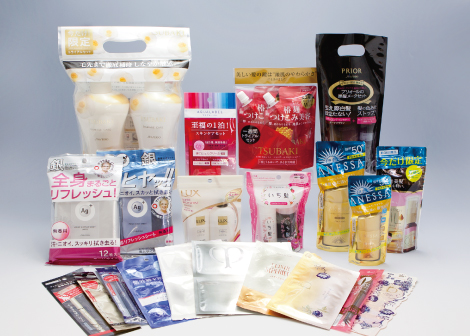 Gravure POP products
Gravure POP products use labeling materials that enhance the eye-catching appeal of products.
Characteristics of gravure POP products
We offer proprietarily-developed gravure POP labels. Because these POP labels have a firmer spine than those printed using other methods, they reliably return to their distortion- and crease-free shapes in the store, providing a maximum level of eye-catching appeal. Our gravure POP labels also enable design expressions not possible with relief printing or offset printing.