Paper products
Delivering high value-added packaging materials, with a good balance between
quality, cost and delivery (QCD), that continue to be trusted by our customers
Sogo Printing offers a range of high quality, high value-added packaging materials, including designing and developing shock absorbent packaging that is effective for breakage prevention of vials and ampoules used by the pharmaceuticals industry, and designing and manufacturing child-resistant, senior-friendly (CRSF) packaging that prevents accidental ingestion of tablets and capsules by children and babies. We also manufacture a range of paper packaging, and clear packaging using plastic sheet, that brings high quality to packaging materials for the cosmetics industry. We are working on designing and developing new products and new technologies so that we can offer our customers trusted and satisfying packaging materials.
Paper packaging and label products
Paper packaging
We design and develop packaging for pharmaceuticals with special functionality required by our customers. We also focus on developing products with the functionality required for pharmaceuticals packaging in pharmaceutical dispensaries, and with functionality to improve the efficiency of dispensing. In addition, we pursue excellence in design and appearance, and manufacture packaging with high quality surface treatment, for the cosmetics industry.
Label products
We manufacture a range of label products, including products for the pharmaceuticals industry with special functionality to help prevent medical errors, large display labels with integrated labeling and instructions for use in health food packaging, and high-transparency labels for bottles and POP labels for containers for use as cosmetics labels.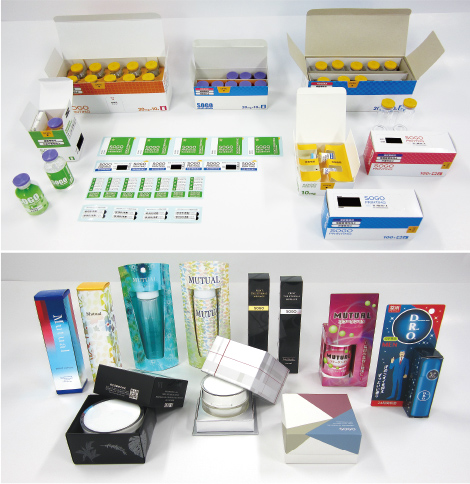 Package inserts and notification cards
Sogo Printing uses web offset printing to print package inserts, and with 100% double-sided image inspection machines to inspect the print surface and folding machines to reproduce many different folding patterns, we are able to manufacture a range of high quality package inserts. We can also manufacture various notification cards for uses such as when pharmaceutical specifications have changed.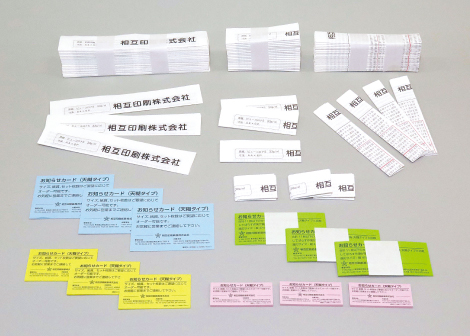 Clear packaging products
At our Kanto Plant, we use a dedicated clear packaging production line to manufacture clear packaging for cosmetics using mainly PP and PET. To meet a range of requirements, including shapes with special partitions to hold containers in their packages, we design, develop and commercialize products that utilize the properties of clear sheets.