Film product technologies
Hybrid transfer foils
These hybrid transfer foils are revolutionary products developed for use on tubes.
Characteristics of hybrid transfer foils
Since conventional transfer foils transfer only the ink, there is the problem of the ink coming off when used on a squeezable container such as a tube. Therefore, we developed a revolutionary transfer foil technology by merging transfer foil technology with laminate technology. Unlike conventional transfer foils, our transfer foils are made by laminating films, vastly improving durability against squeezing and chemicals. They are currently being used in many products.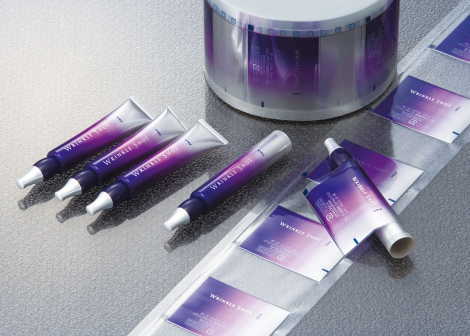 Ultra high brightness inks UGS & MBG
We possess proprietarily-developed ultra high brightness inks (gold and silver).
Characteristics of ultra high brightness inks
Compared to conventional hot stamping or vapor deposition, which are normally carried out as an additional process, decorating with our ultra high brightness inks requires only a single process, resulting in reductions in both the number of processes and the defect rate, leading in turn to a reduction in the total cost. These inks offer the same level of brightness as vapor-deposited inks and are being used in a variety of products.