Group network
Group network that allows rapid risk management
To cope with the risk of disasters such as earthquakes and fires, Sogo Printing Group has geographically spread its manufacturing sites and built a network that connects Group companies. Our stable fiber-optic information system is trusted by many customers.
Group business contents
Sogo Printing's businesses
Sogo Printing primarily manufactures packaging , labeling materials such as package inserts, and related materials for pharmaceuticals and cosmetics. As part of our business continuity plan, we have spread our manufacturing plants throughout Japan. Through our Hyogo Plant (Tanba Sasayama , Hyogo Prefecture), Kanto Plant (Togane, Chiba Prefecture), Kyushu Plant (Kasuya District , Fukuoka Prefecture), and Osaka Plants (Honjo Plant and Oyodo Plant, both in Kita-ku, Osaka), we have built a community-based supply structure and are also preparing for risks such as those during disasters.
We have the same type of printing equipment operating at all these sites, while printing‒related data is kept at two sites in Tokyo and Osaka in a redundant storage environment with full security management. If one site's operation is interrupted by a disaster, our Sogo Printing Group VPN* (see the diagram below) is in place to immediately send data to all plants from an unaffected site, making it possible for any plant to produce and supply products at the same level of quality and reliability.
*VPN: Virtual Private Network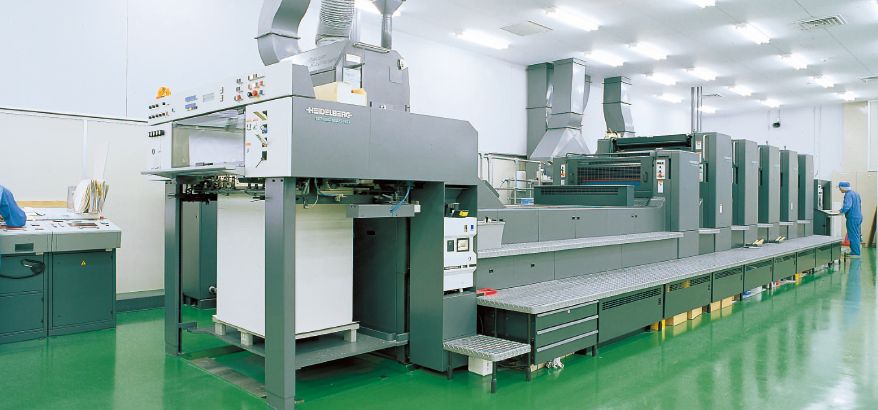 Group network
Responding as the Sogo Printing Group
Sogo Printing Group possesses a system that is capable of manufacturing products tailored to individual industries.
We have established a uniform manufacturing structure at all Group companies. Examples include Meibundo Industries Co., Ltd. (Tanba Sasayama, Hyogo Prefecture), which specializes in packaging for the food (sweets and alcohols) and media-related industries, and S.A.P Co., Ltd., which specializes in designing, planning, editing, and plate making for packaging and catalogs.
Additionally, we have built a group network that connects these related companies, establishing a collaborative structure for the entire group to manage risk. Furthermore, we established a subsidiary in Vietnam (Technopack Vietnam Co., Ltd.) in May 2014 to support our customers overseas (Asia).