Paper packaging product technologies
Dosepak®
What is Dosepak?
Dosepak is a child-resistant, senior-friendly (CRSF) packaging format that is difficult for children and babies to open, but not difficult for seniors, and which was designed to prevent accidental ingestion of pharmaceuticals by children and babies. The internal push-through pack (PTP) card also includes provision for date printing for effective compliance with taking medication. Its compact, portable form and individual packaging also helps maintain privacy when taking medicine in public places.
Dosepak® is a registered trademark of the WestRock Company, which holds related intellectual property rights.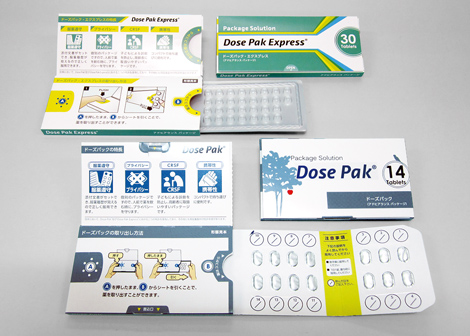 Counterfeiting prevention package
What is counterfeit prevention packaging?
Packaging methods to help prevent counterfeiting of pharmaceutical products include printing the packaging with patterns using special photoengraving technologies and the use of changing hot stamps that produce different patterns depending on the viewing direction. Combining overt technologies (visible counterfeiting prevention methods) with covert technologies (counterfeiting prevention methods that cannot be easily seen) results in packaging that is difficult to reproduce.