Quality assurance
Providing products with competitive quality, costs, and delivery times
At Sogo Printing, we believe that maintaining and improving the quality of our products is of the greatest importance. To this end, we have formulated permanent policies on product quality, and established ISO 9001-compliant quality management systems at all our business sites. Since required levels of quality requirement have been increasing every year, going forward we intend to pursue further improvements in both the level and efficiency of our management systems.
ISO 9001 Quality Management System
Printed materials include a wide range of options, from packaging and labeling materials to advertising and publicity materials. When manufacturing packaging, labels and package inserts for the pharmaceuticals and cosmetics industries, which follow particularly strict standards, we position ourselves as an upstream process for those pharmaceuticals and cosmetics manufacturers. In that position, we conduct appropriate manufacturing process management, quality management and shipping management using an integrated production management system from the printing plates to printing, processing and shipping. We are also working to automate the inspection process using advanced technologies, and to manufacture trusted products with even greater quality stability.
Our Hyogo Plant acquired ISO 9002 certification in March 2000. Then in October 2001, our Osaka Head Office, Tokyo Head Office, Osaka Plant and Hyogo Plant acquired ISO 9001 accreditation, which we extended to our Kanto Plant in December 2006 and our Kyushu Plant in December 2013. We strive to further improve product quality by having all our plants operate under the same management system.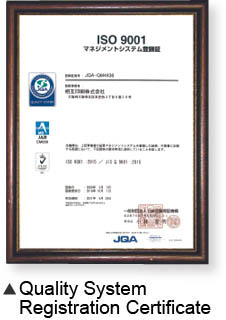 Print surface image processing inspection
Detection of missing colors, smudging/dirt, misregistration and foreign matter, etc.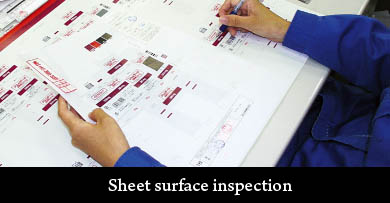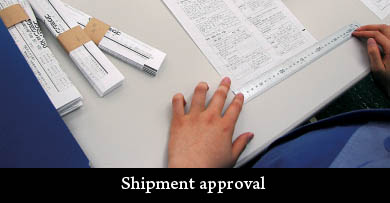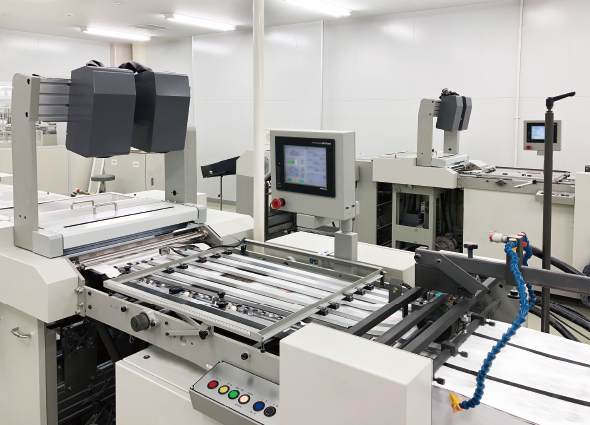 Whole-sheet image inspection machine